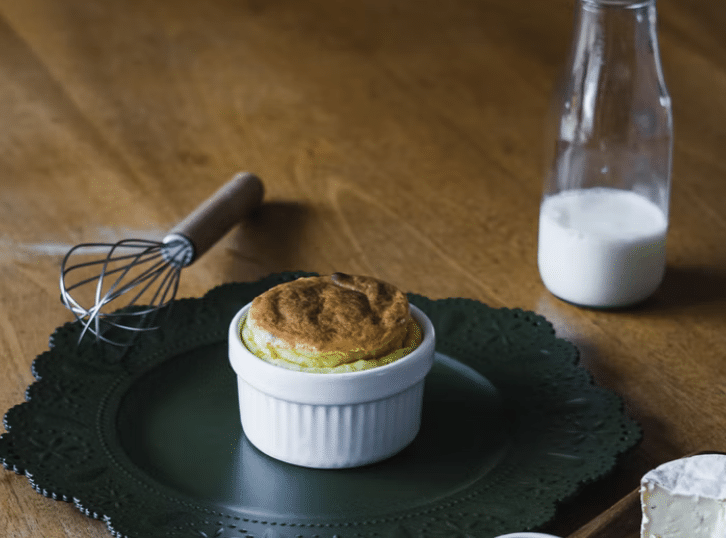 Herbaceous Cheese Soufflé

A Puff of Magic
Simple ingredients such as cheese, flour, eggs and butter together can make something as spectacular as soufflé. This French classic can be something so simple and delicious you can even tackle it for a mid week dinner with your special someone. Chill a bottle of delicious Rosé to add that touch of sweet freshness.
Serves 4
Ingredients
4 tbsp. unsalted butter
60g plain flour
450ml full cream milk
6 large eggs, at room temperature
240g Gruyere cheese, grated
50g Parmesan cheese, finely grated
Bunch fresh flat leaf parsley, chopped
Bunch fresh chives, chopped
3 tsp Dijon mustard
½ tsp cayenne pepper
Salt and pepper to taste
Method
Preheat the oven to 200℃.
Brush 4 individual ramekin dishes generously with butter, sprinkle the bottom and sides with half the Parmesan and set it aside.
Melt butter in a saucepan over a medium heat. Stir in the flour with a wooden spoon until the mixture forms a clump. Keep stirring the mixture over the heat for about 2-3 minutes to cook off the flour. Slowly add the cold milk to incorporate. You may find you need to change to a whisk halfway through to smooth out the lumps. Once smooth and thick, remove from the heat, add both cheese's, Dijon mustard, salt and pepper, and set aside to cool slightly.
Separate the eggs. Add the egg yolks to the saucepan and beat well to combine.
Whisk the egg whites on high speed until stiff peaks form. Gently fold the egg whites into the cheese egg mixture. You want to add a little at a time to keep the air in the mix.
Pour into prepared ramekin dishes and bake for 30 to 40 minutes or until puffy and well browned on top. Refrain from opening the oven during the cooking process as the soufflé will flop.
Serve immediately.